The mechanisation and automation trends are gaining momentum, and this is just the beginning. The fourth industrial revolution is in full swing. Machines are becoming smarter and smarter. It is predicted that they will soon be able to create 'social networks' of their own to communicate with each other and use shared data2. A huge amount of orders placed online and rapid delivery expected by customers bring about changes in how work is done and make robotics more and more common in warehouses. Automated solutions are also becoming more and more popular.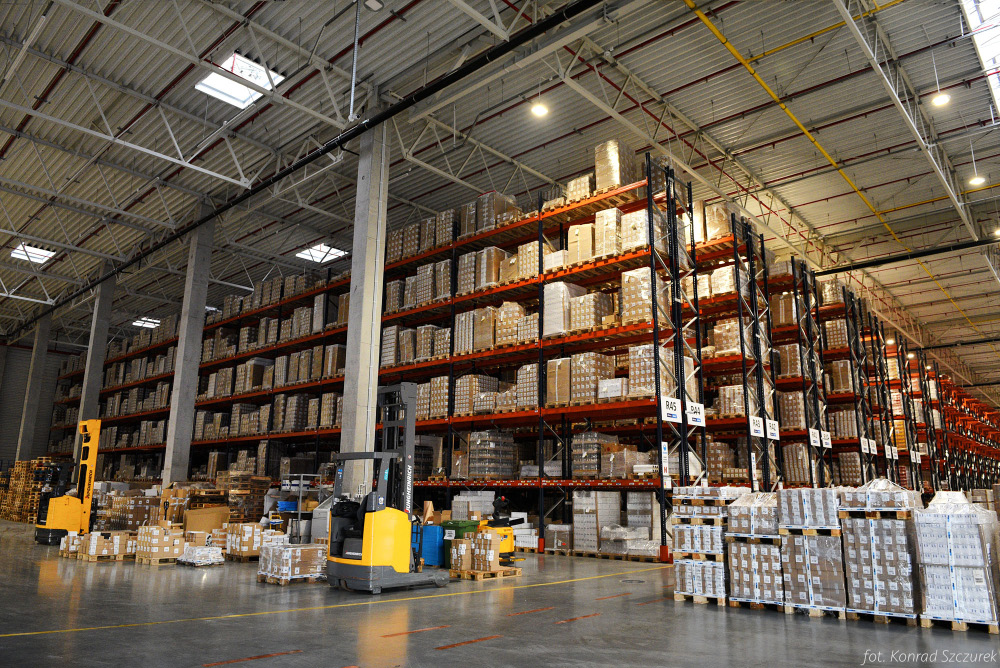 Quicker, cheaper, more precise
An automated warehouse can work with 100% efficiency for 24 hours, which is a big competitive advantage in the e-commerce era. Thanks to warehouse automation solutions, we can improve process efficiency and reduce delivery time, while also reducing costs. To optimize the picking processes, automatic storage systems, such as racking shelves, are often used in logistic facilities, allowing to transport goods, and store or retrieve them from the racks. Other systems that facilitate the storage of goods include dense storage systems with a radio-controlled shuttle. Mezzanines with belt conveyors and sorters are also used to optimize and facilitate packing.
"Mezzanines are a big improvement and a way to make better use of the cubic capacity of the warehouse. That is why more and more of our customers decide to implement such solutions in the facilities developed by us. The advantage of implementing warehouse automation mechanisms is saving time, eliminating human errors, and cutting costs by reducing the number of employees. This is particularly important nowadays, as companies struggle to find people to work", comments Maciej Krawiecki, Leasing Director at 7R.
Automation is often supported by artificial intelligence, which makes it easier to plan delivery processes. For example, this year PSI Polska deployed innovative software in LPP's distribution centre, namely Warehouse Advanced Planning (WAP), which allows to schedule simultaneous delivery of the new collection to all of the chain's stores at the same time3. The last mile is important both for retail chains as well as individual customers, especially in the e-commerce era.
"From the moment the order is placed, customers expect to have their products delivered in the shortest time possible. Proper organisation of the supply chain is an important factor that gives the company a competitive advantage. That is why it is important to ensure one has the right automation solutions in place. Each case is different, which is why it is so important to pay attention to the needs of the given tenant and meet their expectation by choosing solutions that will work best in the given situation", adds Maciej Krawiecki.
The era of robots
The use of robots in the warehouse industry helps streamline the monotonous processes that once were more labour-intensive and prone to human error. It seems that with the current technological progress, the demand for labour will soon decrease. More than 260 robots already work in one of the warehouses in Wroclaw. Thanks to an advanced IT system, they choose the shortest way to reach the rack and picking station, raise the shelves where the products they are looking for are stored and transport them to the appropriate picking station. They are able to lift shelves that weigh 1.3 tonnes4. In southern China, in Huiyang, Zhu Que's robots lend a helping hand and search for goods for the employees. The machines can work for 8 hours without interruption, travel at speeds of up to 1.5 m per second and carry goods weighing 500 kg. Before the expansion of robotics, during one shift in an Asian warehouse, an employee would sort 1,500 products, which required making 27,924 steps. Currently, thanks to machines, this employee is able to sort 3,000 products, which requires only 2,563 steps5. In the German city of Schweig, Puma together with Magazino, Gigaton and ITG plan to open the first fully automated warehouse, where the TORU robot will be responsible for transporting goods. The robot will make decisions based on data captured by numerous cameras, sensors and artificial intelligence6. Are robots an actual threat to our jobs, and can they really replace humans? According to the ABI Research report, by 2025, one-third of the traditional workforce will be replaced by digital workers7.
–"It is true that technology is advanced, but it is not sufficient to eliminate humans and replace them with machines entirely. First of all, there must be someone to manage the processes and oversee the workflow. It is important to remember that automation an d robotics not only reduce the number of jobs, but also create new ones. Advanced automated solutions are, most of all, an improvement on a dynamically developing market", summarizes Maciej Krawiecki.
---
Notes:
1) https://polskiprzemysl.com.pl/wiadomosci-ze-swiata/inteligentny-magazyn-alibaba
2) https://www.soselectronic.pl/articles/no-name/przemysl-4-0-czesc-1-co-oznacza-pojecie-quot-czwarta-rewolucja-przemyslowa-quot-2060?clid=Cj0KCQjw9ZDeBRD9ARIsAMbAmoYezZJhVgZ0NJb-VLzW3sJiCUkuNUqN2hxksRmBNtDmnJ48nR3nFUsaAokYEALw_wcB
3) https://magazyny.pl/blog/baza-wiedzy/przemysl-40-w-magazynach
4) https://trans.info/pl/polskie-krolestwo-robotow-amazon-automatow-wiecej-niz-ludzi-74437
5) https://polskiprzemysl.com.pl/wiadomosci-ze-swiata/inteligentny-magazyn-alibaba
6) http://www.portalspozywczy.pl/technologie/wiadomosci/w-niemczech-powstaje-pierwszy-inteligentny-magazyn,147097.html
7) https://www.forbes.pl/biznes/roboty-do-2020-roku-zabiora-5-mln-miejsc-pracy-na-swiecie/smz1z38
AUTHOR: Elwira Charyga