The trend of adding office space to warehouses started in the 1950s in New York in the United States. At that time, the old abandoned production halls, warehouses and factories served as artists' studios. This use of space appealed to many around the world. Some decided to go one step further, and turn warehouse area into offices. Over time, more and more companies began moving their headquarters to warehouses, and offices in logistics parks became more modern and attractive, and were designed with the well-being of employees in mind.
"How the office looks does matter. Especially in the case of companies operating, just like us, in the transport, shipping and logistics business, which is a rather specific industry that needs to constantly compete for new employees. When a candidate applying for a job sees an office which is modern, trendy and full of convenient amenities, the position he or she applies for immediately becomes more attractive. Currently, in terms of quality some of our office space located in warehouses can compete with modern office buildings occupied by large corporations," says Łukasz Kuliński, Branch Director Kraków, ROHLIG SUUS Logistics.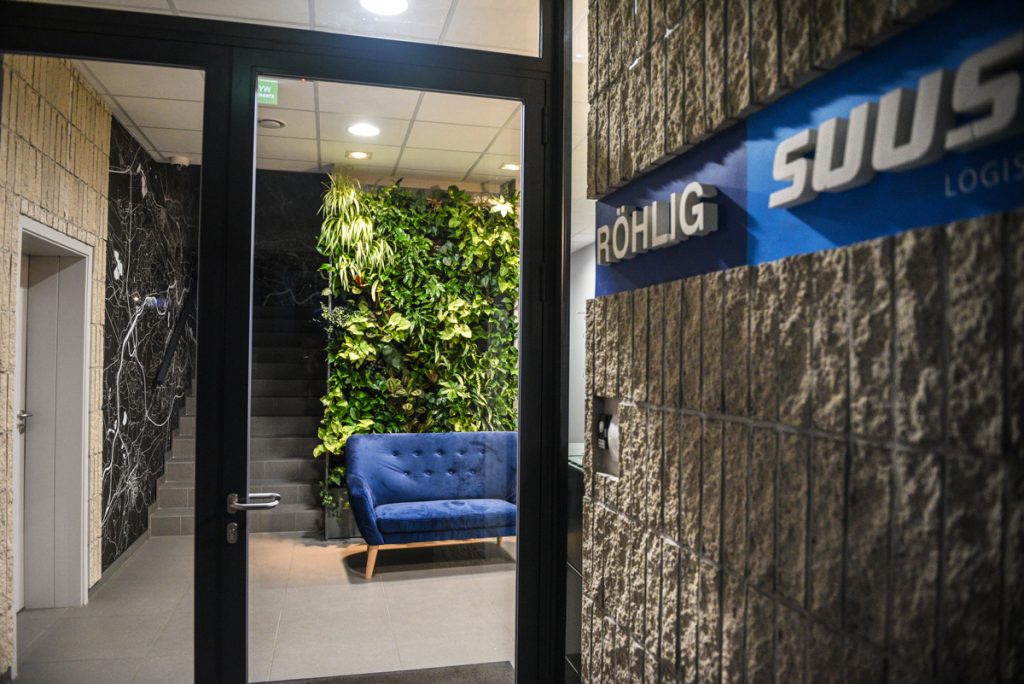 ROHLIG SUUS Logistics office
A local touch
A branch office of ROHLIG SUUS Logistics is located at the 7R logistics park near Kraków. The two-storey modern office impresses the visitors with extensive glazing, warm colours, comfortable furniture and lots of natural greenery.
"All of our new offices are designed according to specific standards. However, each regional branch wants that individual touch that emphasises the connection with the given region. In our case it is a large wallpaper in the corridor with the map of Kraków," added Łukasz Kuliński.
ROHLIG SUUS Logistics leases over 15 500 sq. m of warehouse space in 7R Park Kraków. The office was designed to occupy a part of the space inside the hall. Over 40 people work there, mainly from the freight shipping, customer service, administration, accounting and support departments. It is also used by warehouse staff. Modern social rooms, cloakrooms and canteens are at their disposal.
"An office in a warehouse must fulfil certain functions. It is important to remember about this when designing such space. This includes cloakrooms for warehouse staff, which take up almost half of the first floor of our facility, spacious and comfortable dining rooms, and sliding service windows that facilitate communication between the office and the warehouse. Modern office buildings do not offer such solutions," sums up Łukasz Kuliński, Branch Director Kraków, ROHLIG SUUS Logistics.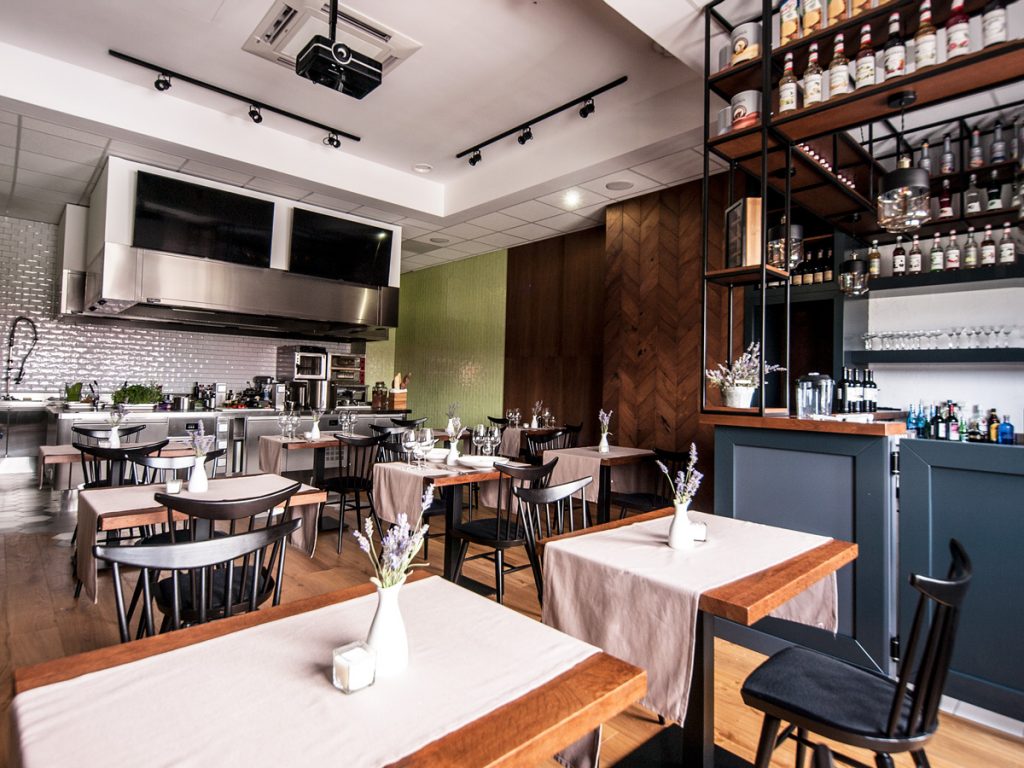 IGLOMEN cooking studio
Unique space
The ROHLIG SUUS Logistics branch is not the only example of an attractively designed office in the 7R park near Kraków. IGLOMEN, which occupies over 6 000 sq. m of warehouse and office space in 7R Park Kraków, also moved its headquarters to the park.
IGLOMEN distributes frozen food to the retail sector and is a leading food distributor for the HoReCa industry in southern Poland.
"It was a natural choice for us. Iglomen's main office should be located where the warehouse and logistics facilities are. We also considered the convenience of our employees and their comfortable commute to the workplace, which 7R Park Kraków ensures," says Adam Jaszczyk, Vice President of the Management Board of Iglomen. About 120 people work at the Iglomen headquarters, among all in the logistics, administration, telemarketing, customer service departments, and management offices. The two-storey office is located next to the warehouse hall.
"The first floor of our office has been designed to a high standard. It offers, among others, glazed modern conference rooms and soundproof rooms. A unique highlight is our cooking studio that resembles an elegant restaurant. We use it to train employees, discuss menus with restaurant owners, invite and host our customers, and examine new products presented by distributors and manufacturers. The studio is equipped with cameras, a TV and a projector, which makes it possible for a large number of people to participate in presentations and trainings," adds Adam Jaszczyk.
There is more and more interest on the warehouse market in attractively designed and modern offices at logistics parks. This trend has emerged due to the changing attitude of companies that understand that office space is a factor that has a real impact on business development and organizational culture. Well-arranged offices, also on the warehouse market, are a magnet that attracts good employees. This growing market awareness is a challenge for warehouse space developers.
AUTHOR: Aleksandra Wojdyła