Meanwhile, the developer is already working on new facilities and new convenient features that will further streamline the tenants' operations.
Do you remember the moment when you made the decision to create a network of 7R City Flex Last Mile Logistics warehouses?
Bartłomiej Krawiecki, Head of Development, Member of the Board at 7R: The breakthrough moment was the Christmas Eve meeting at one of the hotels in Kraków, a year and a half ago. We talked about a network of city warehouses, which we wanted to launch as the first developer on the market. We had already talked about it before, but it was on that day that I sketched the logo of our 7R City Flex Last Mile Logistics concept.
A year has passed since the launch of the innovative 7R City Flex Last Mile Logistics concept. What is your opinion about this period and the projects that have been completed so far?
Looking at the projects we have completed so far as part of the 7R City Flex Last Mile Logistics concept, I can honestly say that we have hit the bull's-eye. All of our facilities are fully leased before the construction is completed. Obviously this involves more work during the commercialisation stage. In projects such as 7R City Flex Szczecin, which offers around 10 000 sq. m, we have as many as five tenants, while in large logistics parks single tenants occupy 10 000, 20 000 or even 50 000 sq. m. After a year of the concept being on the market, we can say that it is very popular with tenants, which is why we are actively developing it. The availability of land in urban areas is certainly a challenge. The development process is more complicated in the cities and takes longer to complete, but this does not deter us from expanding our urban portfolio.
How many warehouses of the new type have been developed so far? How many are under construction? How many City Flex facilities will you build this year?
In January 2019 we completed the first building in 7R City Flex Szczecin, which has been fully leased. A facility in Gdańsk is under construction, which has already been 100% commercialised, and other facilities being developed are located in Łódź and Warsaw. We are constructing as many as three warehouses in the capital city, and there are 8 more projects in our pipeline. Later this year, we will commence construction in Wrocław and Gdynia, and also in Łódź.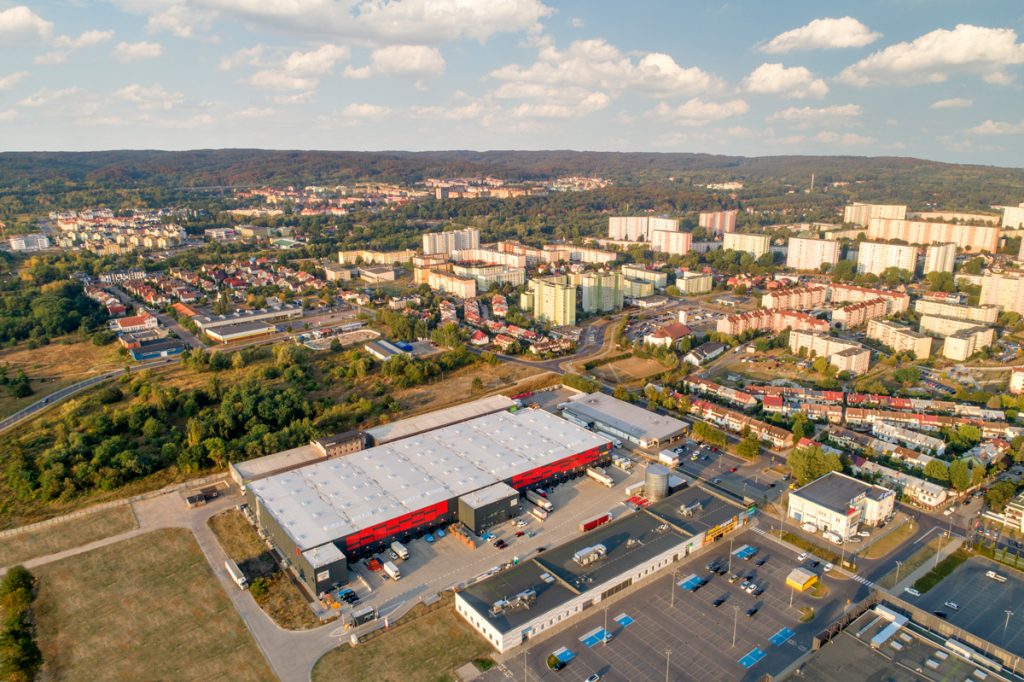 7R City Flex Szczecin
What market factors and consumer trends have made 7R City Flex so popular?
Nowadays, the development of e-commerce has the strongest impact on the warehouse space market. Time is a key factor for companies that process online orders and handle deliveries, hence the growing demand for city warehouses that support the so-called last mile. Soon, same-day delivery of the order will become a standard in online shopping, which means goods will need to be stored close to the end customer. 7R was the first developer in Poland to release the innovative Small Business Units city warehouse concept, known as 7R City Flex Last Mile Logistics. It is a unique solution in the country. Although single SBU facilities were constructed in the past, no developer has integrated them and connected in a form of a network before. This is how we fill in a previously undeveloped market niche.
How are they different from other projects?
What distinguishes our concept and is a real novelty on the market is the option of concluding contracts for the lease of space in several locations on the same template. We ensure an equally high standard of both the warehouses and service in all of our facilities. 7R City Flex Last Mile Logistics form a network of warehouses in key locations in Poland. Companies operating throughout the country are offered an additional opportunity to optimise their logistics processes and the supply chain. Our concept offers them a competitive advantage.
Are there actually companies that have decided to lease space in several City Flexes in different locations?
Certainly. RTV Euro AGD, for example, which has leased space in Szczecin and Łódź.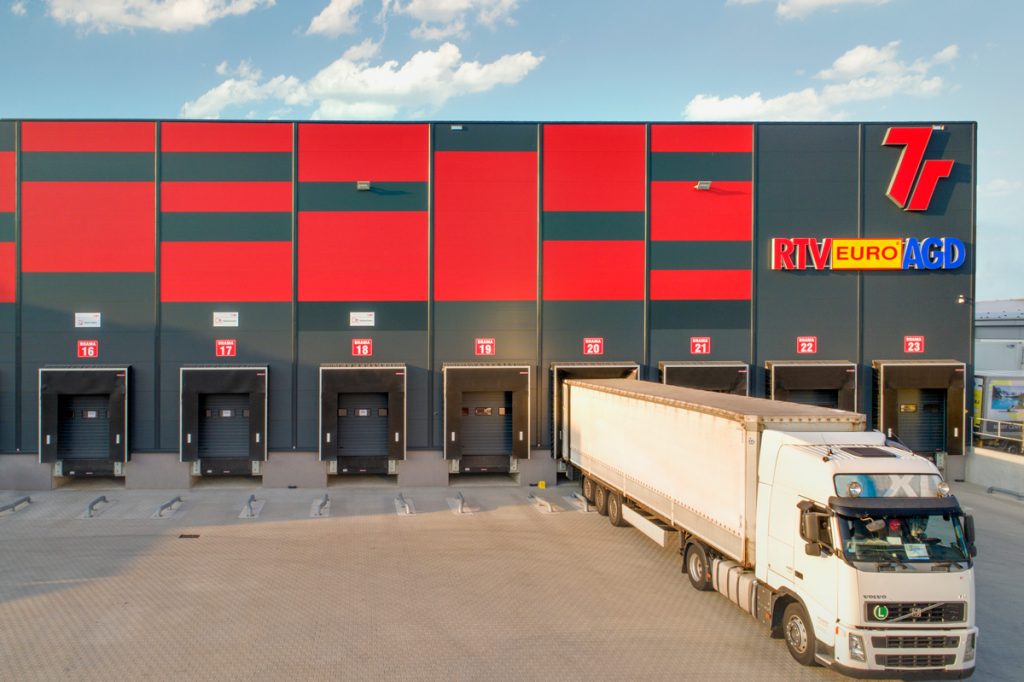 RTV Euro AGD at 7R City Flex Szczecin
What kind of space can you construct or arrange in 7R City Flex facilities?
Depending on the client's needs, apart from the typical warehouse space in the facilities that form the 7R City Flex Last Mile Logistics network we can offer to arrange service area, commercial and exhibition space as well as bigger than standard office space. The design of the warehouses also supports light manufacturing. Our city warehouses are a great place not only for a quick pick-up or return of an order, but they can also serve as a showroom or even a value-added services centre. This enables all of the key aspects of the company's operations to be concentrated in a single location.
Customers from which sectors will benefit from your solution the most?
7R City Flex Last Mile Logistics was created for all companies that want to be closer to customers. In the case of bigger companies that have large central warehouses outside the city, our facilities will serve as the last, albeit not the least important, link in the delivery chain. It is from there that couriers will depart to the end customers. This will shorten the distance they cover and allow them to reach customers faster. It is more convenient for large retail chains that are developing their e-commerce channel and for logistics operators to work with one owner and manager of several warehouse locations. The second main category of customers are small businesses and online stores that need a warehouse, office and exhibition space in a single location. The warehouses that form the 7R City Flex Last Mile Logistics network are perfect for distribution companies that operate on the local market, for example from the services, retail or pharmaceutical sector. 7R City Flex Warsaw Airport I is very popular with pharmaceutical industry, which considers the proximity of the end customer a key factor due to the transport conditions their goods require.
What are the location requirements for 7R City Flex facilities?
The characteristic feature of the warehouses that form this network is their attractive location close to the city centre, which at the same time offers convenient access for trucks. They are close to shopping facilities and housing estates, which can be easily reached not only by car, but also by public transport.
Tenants from which industries have so far decided to lease space in your City Flexes?
These are mainly companies that offer courier services and other businesses that handle the final stage of deliveries, online stores selling electronic equipment, retail chains that are starting to develop their e-commerce channel, including companies from the electronics and household appliances industry, and the clothing industry. Apart from being closer to the end customer, companies that have decided to lease space in a 7R City Flex facility also appreciate a good access to employees. This was the case with companies in 7R City Flex Szczecin. They chose our facility because of the location and convenient commute for future employees.
What are the biggest advantages of the warehouses in the tenants' opinion? What are the benefits of choosing such a project?
The main advantage, as pointed out by the tenants, is the location of warehouses within the city limits, which allows them to be as close to consumers as possible. The strategy of locating warehouses in the city centres is a response to the challenges of last mile logistics. It is also particularly important for businesses that compete for customers with the speed of delivery..
What was the biggest surprise in the 7R City Flex Last Mile Logistics project? Was there anything you did not expect?
Rental dynamics. We assumed that the projects would be popular with tenants, but we did not expect that they would be fully occupied before completion of construction. We knew there was a demand for such facilities, but it was the first initiative of this scale in Poland and we were not sure how successful it would ultimately prove. Today, a year since the launch, we know things turned out better than expected.
What are your plans for further diversification of 7R's offer?
We keep thinking about new convenient solutions that could make life easier for 7R City Flex Last Mile Logistics tenants. We are currently considering introduction of electric vehicle charging stations in the network. Removing combustion cars from the city centres and replacing them with electric ones is becoming a global trend. At 7R, we believe that zero-emission zones in Polish cities are a matter of time. Therefore, we want our network to be the only one on the market where electric vehicles can be charged so that they can be reliably used to distribute goods in city centres.
INTERVIEW BY: Aleksandra Wojdyła